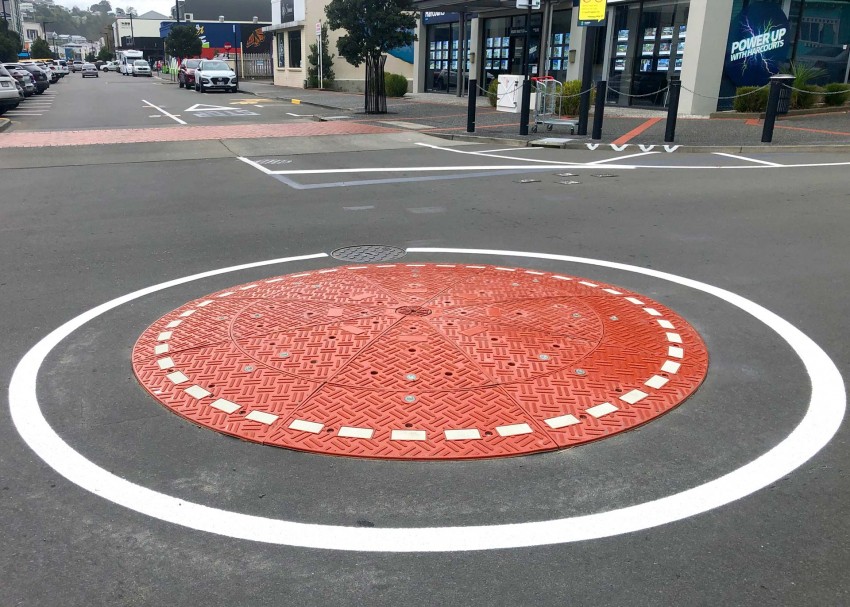 Up until now, the conventional approach for councils to solve traffic incidents at intersections has been to build a concrete or asphalt roundabout.
When the Napier City Council came to Shengli with the same issue of regular traffic accidents at the intersection of Hastings and Vautier Streets, they discovered there is a faster, more cost-effective option: the little red roundabout.
While the little red roundabout sounds like it comes from a fairy tale, the benefits and results over conventional roadworks are quite the opposite.
The intersection is a relatively harmless looking T-junction. Tony Mills, the Principal Transportation Engineer for the Napier City Council told us otherwise. The intersection had a poor crash history with many crashes going unreported to the police. There was an incident at the intersection every month or so.
Unreported accidents don't make it onto the system that records crash data, a tool vital for Councils to identify problem crash areas so they can be rectified. The intersection at Hastings and Vautier Streets is a little different, as it's directly outside the Napier City Council's offices. Council employees are well aware of accidents, as they go to the aid and assistance of crash victims. One crash involved a cyclist being struck by a car which failed to stop on Hastings Street.
The solution was to put a roundabout on the intersection. "We wanted to make sure a roundabout would work in the context of the CBD road environment and so investigated a temporary solution," said Tony Mills.
The Shengli team were able to provide it in the form of a high-visibility red rubber roundabout. The kitset roundabouts include reflective cat's-eyes, making them just as effective at night.
"This was a low-cost solution with a quick install time of a few hours, compared to days if we had to construct a roundabout from asphalt or concrete," said Tony.
The kitset rubber roundabouts come in two sizes. They're made from vulcanized virgin rubber and come with all the fixtures, caps and connectors for assembly, making them easy to install with minimal interruption to traffic compared to major roadworks. They're also a lower cost alternative to conventional solutions.
Many councils are adopting solutions like the little red roundabout as part of the NZ Transport Agency's Innovating Streets programme. The purpose of the programme is to make it faster and easier to transition streets to safer and more liveable spaces.
Since the roundabout has been installed at the intersection of Hastings and Vautier Streets, there have been no reported or witnessed crashes. Tony Mills tells us the traffic operation at the roundabout continues to be very effective.
Councils with problem intersections that need a fast, cost-effective roundabout to make it safer for commuters, will understand why the Napier City Council liked Shengli's innovative solution. The roundabout may be made from rubber, but it produces concrete results.
Quick facts about the Little Red Round About
The Little Red Roundabouts come in two sizes and in either red and black. They're quick to install and are low cost compared to alternatives.
---